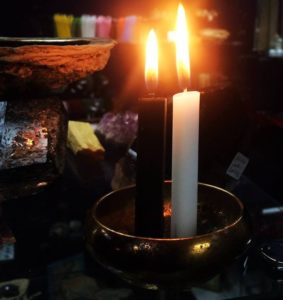 The Full Moon Blessing will be quite different this month. Denise Bruchman is visiting us from the Pacific Northwest. Denise will be doing a group reading which will help you figure out what you need to let go of. Come hear spoken words from your Angels, Guides, Ascended Masters and Loved Ones as they communicate to you the things that may need released.
The Full Moon is all about releasing and purging. Letting go of anyone or anything that is not for your highest good. The veils between the worlds are the thinnest around the full moon. During this Full Moon Blessing Ceremony, we will be receiving blessings and guidance on release as Denise Bachman is guided to lead us. Denise has been a Reiki Master since 1999 and is a Certified Angelic Healer and a Certified Medium. She brought extremely valuable information in other classes previously offered at Vegas Crystal Healings & More such as the "Ask The Experts" discussion panel.
Be watching for more from Denise in January and February. She is truly gifted!
Love donations of $20 (or more) are greatly appreciated but not required. Denise is traveling several hours to lead this Full Moon Blessing. How much are blessings worth to you? Sometimes price tags just can't be placed on such things.
The Full Moon Blessing will be held at Vegas Crystal Healings & More. Tammy Wood is the owner and is a powerful healer and teacher along with the only Hibiscus Moon Certified Crystal Healer in Nevada.
PARK IN RESERVED COVERED PARKING IN FRONT OF SUITE D6. It is reserved for you!