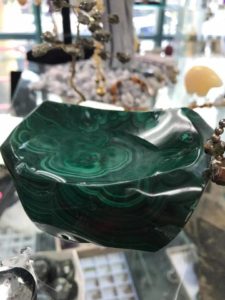 The last several weeks of Crystals 101 class has really ramped up. There have been some changes made and people are really benefiting from the changes with rave reviews! The attendance continues to grow every week!
We started adding Planetary Washes with the Crystal of the week. Curt is new to Vegas Crystal Healings & More. He is an instructor for Seraphim Blueprint and a powerful healer. Curt draws in energies from the planet of the week (this week it is the Sun) and we combine it with the Crystal of the week which carries the same energies (this week it is Malachite).
This week on Wednesday, May 10, 2017, we are studying Malachite which in itself is considered to be a very powerful healer and we combine that with the energies of the Sun.
The class starts with education of the energies of the Sun and how those energies can effect us. We then continue with the Planetary Energy Wash of Sun energies lead by Curt. The meditation and energy wash lasts 9 minutes then we all share our experiences which vary from person to person. The cleansing is really a unique opportunity and many have contacted me from classes over the last few weeks after having continued benefits for several days. Those experiences have been enhanced by the energies of the crystal that was associated with that planet.
The planet is the Sun. Some of its qualities are: Will, Strength, Determination, Positivity, Courage, Faith, Confidence. The Sun signifies the spirit in humanity; the BEINGNESS or ISNESS of life.
Malachite is a stone that carries the same energies as the Sun Planetary Wash. Let's work on the 💖!
If you would like to attend this unique weekly event, please click HERE.