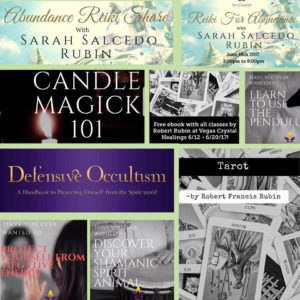 This week is going to be amazingly fabulous at Vegas Crystal Healings! In February, Robert Rubin came and did a talk about his book "Defensive Occultism – A Guide to Supernatural Protection". It sold out and I couldn't get the ticket link shut down on my website. Talk about a great problem to have! There were people that were turned away due to the tremendous response. We are offering this talk again along with a multitude of other classes and workshops this week.  Here is the lineup:
Defensive Occultism – Protecting Yourself from the Unseen World – A 2 1/2 hour talk by Author Robert Rubin.
Candle Magick 101 – Learn the "how" and "why" candles work to amplify your intentions. This class includes supplies to craft your own candle.
Tarot 101 – Learn how to read Tarot, card meanings and different layouts from Tarot expert Robert Rubin.
Psychic Saturday with Robert Rubin, Sada Nam Kur and Angelica Pasho. 30 min and 60 min private sessions.
Reiki Share – Our very first Reiki Share will be held with Sara Rubin. She will be infusing the Reiki share with Abundance Reiki. All are welcome. You are NOT required to be attuned to Reiki.
Intuitive Awakenings – A 6 hour workshop where you will learn *Activating/Deactivating the Intuitive State *Seeing this in Spirit Vision *Psychometry *Scrying and Communing with the Spirit Realm *Accessing your unconscious with Intuitive tools *Shamanic Vision walking *Intuitive Protection and Self Defense Plus much much more!!!
Abundance Reiki Class – This 4 hour class is a certification through Mysterium for Abundance Reiki. Level 1 Reiki or higher is required.
Psychic Saturday specialties are as follows: Robert Rubin – Tarot Readings, Sada Nam Kur – Life Purpose and Angel Readings, Angelica Pasho – Past Lives, Rune Reading and Aura Energy Clearing of cords and attachments.
As you can see, we have a lot to offer over the next week. Be sure to get your reservations made. When Robert Rubin visited in February, many classes and private sessions were sold out!
I created a special booking page for all sessions and classes. CLICK HERE FOR MORE INFORMATION.