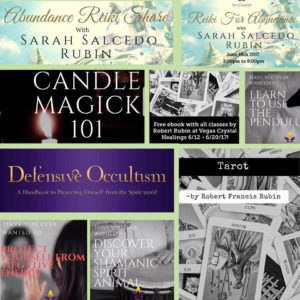 Vegas Crystal Healings & More works very hard to try to bring you classes and events that can help you in everyday life. It isn't everyday that we have the opportunity to bring in experts in specific fields and we are blessed to be able to bring you some of the best of the best!
Robert Rubin, founder of Mysterium in the Philippines, is back in town. He was here in February and many benefited from his knowledge. We decided then that he would come back to Vegas Crystal Healings on his June International tour. He is offering many classes that will benefit people in a very wide range.
Here is a lineup of the events and classes taking place through Sunday, 6/18/17 with links so you can reserve your seat if there is a class you would like to take:
Defensive Occultism – A Guide to the Supernatural – A Talk: Wednesday 6/14/17 @ 6:30 Have you heard the quote, "We wrestle not against flesh and blood but against the principalities of darkness…"? Well it's true. Most everyone has come across someone with bad juju and/or they may have even tried putting that bad juju on you. Defensive Occultism offers people a way to defend themselves as well and those whom they hold dear from the malicious workings of the predators of the unseen world. This practical talk has some for both seasoned practitioners and newcomers to the supernatural world alike! Cost for 2 1/2 hour talk is $30. If you would like the book, the cost will be $7.99 with your ticket; otherwise it is $17.99 and available at Vegas Crystal Healings & More. There will be a Meet and Greet from 6:00-6:30 where you can meet Robert Rubin and have your book autographed. Duration: 2 1/2 hours $30.00
Candle magick has been used for hundreds of years as a form of focus and empowerment with cultures all across the globe. Whether you burn a candle for a blessing or you burn a candle to help a wish come true, burning a candle works for specific intentions. Experience first hand how to dress a candle, create, empower, imbue and consecrate your vern own magickal candles to help you with the manifestations of your hearts desires! Robert Rubin is teaching this class while visiting from the Philippines and is an expert in many forms of magic.
Class includes supplies.
Duration: 2 hours $33.00
Have you wondered what the different Tarot cards mean? Have you wondered how to intuitively interpret Tarot cards? Have you wondered how to read Tarot cards? Tarot 101 is a good means of starting your path on the Tarot with Philippine Tarot authority Robert Rubin. Here is your opportunity to learn from one of the best International Tarot readers! Robert Rubin will teach you the basics of reading Tarot. He will also teach you the "how" and "why" fundamentals. Duration: 2 hours $25.00
We have 3 Psychics with all three having completely different styles and types of readings to choose from. Here are your choices:
Robert Rubin – Tarot Readings. Are you wanting to know if you are on the right path? Do you have a specific question you want answered? A good Tarot reading may be just what you need to get those questions answered. The cards may also show different options you may have which can create different outcomes. Robert had rave reviews when he was here in February with his accuracy.
Angelica Pasho – Energy clearing and cord cutting as well as Runes Readings and Past Life Readings. Do you feel like you need your aura cleansed and feel that you may have attachments and cords? Angelica can clear you in a 30 min session. If you have a specific question you need answered, Runes can be very accurate as well. Are you wanting to know about something that keeps coming up in your life and don't understand why? Perhaps a Past Life Reading is what you need to help you understand the lesson or see where you need to start to clear Karmic ties. Angelica has started developing quite a following with her classes and many rave reviews.
SadaNam Kur – Angelic Intuitive, Life Purpose and Angel Card Reader. Do you prefer to work with angelic energy with your questions? Are you questioning your Life Purpose? Do you need to know which crystals you need to help you in certain areas of your life? Sada can help answer those questions for you and let you know what the angels are saying that may help you. Sada has awakened many to their Life Purpose with rave reviews.
30 Minutes $45.   60 Minutes $100. (A One hour reading allows to go into much more detail and answer detailed specific questions.)
This is our very first Reiki Share and certainly hope you will join us! Don't come with certain expectations based on other places you may have been. I have not been to a Reiki Share in Las Vegas and this is based off one in Salt Lake City that I used to go to before I moved back to Las Vegas. Let's just say it will be a healing experience. Sarah Rubin is hosting this and adding Abundance Reiki in the mix too! Suggested donation: $20
This is a certificate workshop from Mysterium. Within this course you will be given the basic methods of *Activating/Deactivating the Intuitive State *Seeing this in Spirit Vision *Psychometry *Scrying and Communing with the Spirit Realm *Accessing your unconscious with Intuitive tools *Shamanic Vision walking *Intuitive Protection and Self Defense plus much much more! If you've ever wondered if you have the gift of intuition and desired to learn more about said gift then this course is a great way for you to discover your talents as well as make friends. This course aims to equip all participants with the fundamental theories and skills necessary to understand and maximize your personal Intuitive gifts and apply them to everyday life! Everyone who attends the full 6 hour class will also be full graduates from a Mysterium program and receive a certificate of completion. Duration: 6 hours   $150.00
Angelica Pasho is the Reiki Master for this class and is 5th downline from Dr. Usui. She is also now my Reiki Master. If you're unfamiliar with Reiki, it's a form of spiritual energy healing that was specialized by Mikao Usui in Japan. Reiki uses "Universal Life Energy" and has many physical and spiritual benefits, but requires proper training to make the most of it. Reiki is not associated with any religions. It is simply using "Universal Life Energy" and Level 1 will attune you to channeling Reiki energy primary on the physical level for both yourself and others. This level is open to anyone. No previous experience or preparation is required. Duration: 6 hours   $125.00
Abundance. While some people see it merely as money, it's true form is the flow of wealth and gain in every part of our lives. Whether it's about our health, our finances, or our families, a free flow of positive energy gives us vitality, wealth, and an outpouring of love in our relationships. Taught by Mysterium's very own Reiki Master Teacher Sarah Salcedo-Rubin, the Reiki for Abundance Workshop provides participants with a series of "attunements" designed to usher in the flow of abundance and prosperity into their lives. Blockages and obstacles that individuals may possess are cleared, whether energetic or mental, such as procrastination and indecisiveness. With these keys, participants can begun building the foundations to usher in the abundance that they have been seeking in all its forms. The workshop fee includes a comprehensive manual, a certificate of completion and open-ended email support. Completion of the Reiki Healing Level I Workshop is required to participate in the Reiki for Abundance Workshop. If you do not have at least Level 1 Reiki, it is being offered at 9:00 so you can attend the Abundance Reiki too!   Duration: 4 hours   $100.00
We hope you will join us for at least a couple classes and/or private readings during this power packed week! If you have any questions about this weekend, you can call 702-573-6026 for assistance booking your session or class. See you soon!